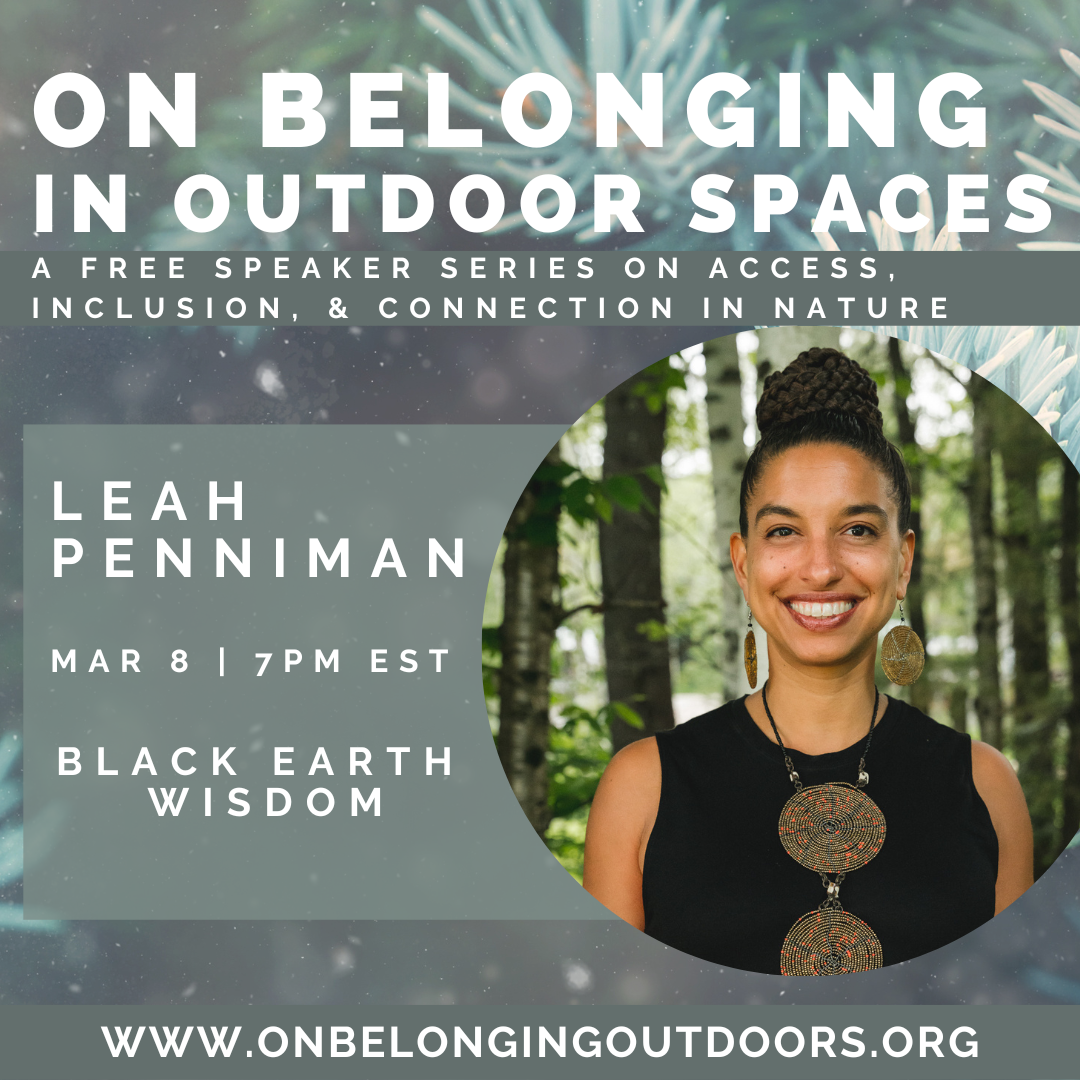 The On Belonging in Outdoor Spaces is a free speaker series featuring speakers whose work is advancing efforts to strengthen belonging and connection between communities of color and the outdoors. 
Black Earth Wisdom: Afro-Ecological Survival Strategies
Ecological humility is part of the cultural heritage of Black people. While our 400+ years immersion in racial capitalism has attempted to squash that connection to the sacred earth, there are those who persist in believing that the land and waters are family members, and who act accordingly. In Black Earth Wisdom, Leah Penniman weaves together the lessons from today's most respected Black environmentalists, those who have cultivated the skill of listening to the lessons that Earth has whispered to them. Together, we embark on a sensory journey through Black ecological thought.
In this time, we are acutely aware of the fractures in our system of runaway consumption and corporate insatiability. We feel the hot winds of wildfire, the disruptions of pandemic, and the choked breath of the victims of state violence. We know there is no going back to "normal." The path forward demands that we take our rightful places as the younger siblings in creation, deferring to the oceans, forests, and mountains as our teachers.
Those whose skin is the color of soil are reviving their ancestral and ancient practice of listening to the Earth to know which way to go. As Dr. Carver explained, "How do I talk to a little flower? Through it I talk to the Infinite. And what is the Infinite? It is that silent, small force… that still small voice."
Leah Penniman (all pronouns) is a Black Kreyol farmer, mother, soil nerd, author, and food justice activist from Soul Fire Farm in Grafton, NY. She co-founded Soul Fire Farm in 2010 with the mission to end racism in the food system and reclaim our ancestral connection to land. As Co-ED and Farm Director, Leah is part of a team that facilitates powerful food sovereignty programs – including farmer training for Black & Brown people, a subsidized farm food distribution program for communities living under food apartheid, and domestic and international organizing toward equity in the food system. Leah has been farming since 1996, holds an MA in Science Education and a BA in Environmental Science and International Development from Clark University, and is a member of clergy in West African Indigenous Orisa tradition. Leah trained at Many Hands Organic Farm, Farm School MA, and internationally with farmers in Ghana, Haiti, and Mexico. She also served as a high school biology and environmental science teacher for 17 years. The work of Leah and Soul Fire Farm has been recognized by the Soros Racial Justice Fellowship, Fulbright Program, Pritzker Environmental Genius Award, Grist 50, and James Beard Leadership Award, among others. Her books, Farming While Black: Soul Fire Farm's Practical Guide to Liberation on the Land (2018) and Black Earth Wisdom: Soulful Conversations with Black Environmentalists (2023) are love songs for the land and her people.
The host organizations for this speaker series are Farrington Nature Linc, deCordova Scuplture Park and Museum, Mass Audubon, Lincoln Land Conservation Trust, The Walden Woods Project, and The Food Project. Generous sponsorship of the Winter 2023 series by The Ogden Codman Trust, Freedom's Way National Heritage Area, and the Lincoln Cultural Council.