The 11th Annual Race will be on October 15, 2023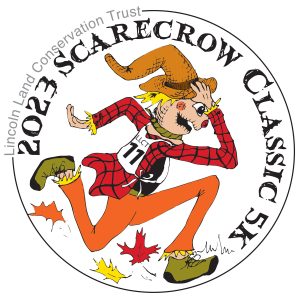 Every year running, the Scarecrow Classic 5k is LLCT's most anticipated community-wide fundraising event! Lincolnites are gracious hosts – and tough competitors! – to participants from all over the Greater Boston Area. The annual race, which occurs in mid-October, is an essential component of LLCT's annual fundraising efforts. More than 60 local and regional businesses generously support the event with financial and in-kind contributions. Since 2012, LLCT has delighted thousands of participants with our beautiful 5k course that winds through scenic roads, fields, and trails on Lincoln's conservation land. All proceeds from the event support the work of the LLCT.
To learn more about the race and to sign up during open registration, visit the official race page by clicking on the logo.
 Scarecrow Classic 5K Photo Gallery: