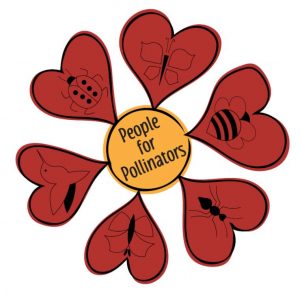 People for Pollinators is a collaboration of Lincoln-based organizations and individuals dedicated to the promotion, protection, and creation of habitat that supports the vitality of pollinators. On land protected and managed by the LLCT, a 2,000 square foot meadow was established in June 2016 with chemical-free, native and naturalized perennial seed and plant plugs. The meadow provides habitat and feeds local pollinators throughout the foraging season.
People for Pollinators is a collaboration among the Lincoln Land Conservation Trust, Birches School, Lincoln Garden Club, Lincoln Conservation Commission, Lincoln Agricultural Commission, Stonegate Gardens and individuals in the Lincoln community.
World-wide pollinator numbers are declining at alarming rates for many reasons, including serious habitat loss, global warming and significant pesticide use, especially of the neonicintinoids – a pervasive class of insecticides used in agriculture and found in garden products. Pollinators provide an essential ecosystem service with many of the world's agricultural crops and medicines dependent on pollination by animals, mammals and insects. (Food and Agriculture Organization of the United Nations).
Visitors to the meadow are encouraged to record observations at iNaturalist. Become a citizen scientist, and share your findings with the project and with scientific repositories like the Global Biodiversity Information Facility to help scientists find and use our data. All you have to do is observe! iNaturalist is simple to use and works on all devices. Go to: iNaturalist.org/projects/people-for-pollinators.
People for Pollinators is generously supported by grants from Lincoln Land Conservation Trust, Birches School and a private donor.