FOR IMMEDIATE RELEASE
LINCOLN LAND CONSERVATION TRUST RAISES $360K IN GENEROUS MATCHING CAMPAIGN AND BENEFIT CONCERT GIVEN BY BOB DAVOLI AND EILEEN MCDONAGH
Lincoln, MA, Wednesday, March 21, 2018 – Lincoln Land Conservation Trust (LLCT) raised $360,000 from more than 300 donors during a matching campaign in December 2017 and January 2018 given by Bob Davoli and Eileen McDonagh of Lincoln. Additionally, more than 150 LLCT Members and friends enjoyed a wonderful evening of music and community at a benefit concert given by The Bob Davoli Band on January 6 at Bemis Hall, which was hosted by Bob and Eileen. LLCT raised $3,855 in ticket sales and $1,200 in raffle tickets, which were rolled up into the larger match.
The largest gift came from an anonymous donor who stepped forward with a check for $100,000. The donating couple had been considering a substantial gift for several years and the opportunity created by the matching campaign became the right moment. "Many years ago, the conservation land and trails attracted us to Lincoln.  Since then, the Lincoln Land Trust and the Rural Land Foundation have provided extensive benefits to us, from recreation, protection of surrounding lands and a real conservation ethic throughout the community. We decided the least we could do was to return at least some of the benefit that has been provided to us," said the donors. Bob and Eileen were thrilled about the gift and had hoped that the campaign would inspire such generosity.
LLCT's trustees and membership base showed their dedicated support in helping to raise more than $71,600 during the matching campaign period.
Bob and Eileen generously increased their matched amount to make the total raised an even $360K. "We purchased our land in Lincoln over 25 years ago because Lincoln is a community that clearly shares our deeply held belief in the preservation of open space and in the protection of natural areas. And the LLCT and Rural Land Foundation are the organizations that have successfully secured for over sixty years Lincoln's open, protected, and rural-feeling, despite Lincoln's location in the midst of a major metropolitan area. It seemed to us that one way to express our appreciation of Lincoln and to support LLCT's mission, was to give back!"
The funds raised are already supporting a current acquisition project and are being earmarked for future projects. There are still more than 200 parcels in Lincoln that remain of conservation interest, ranging from less than 1 acre and up to 80 acres.
LLCT is putting some funds toward a Stewardship and Enforcement Defense Fund for protection. LLCT presently holds conservation restrictions and deeds on more than 1000 acres. Property that the LLCT holds for conservation purposes is a permanent financial liability. It costs money up front to initiate management, and it takes money every year to monitor, maintain and manage it.
This spring LLCT is producing a customoized naturalist guide that provides identification of and awareness about the diversity of wildlife and plant species that Lincoln's natural areas and conservation land supports. Funds raised are paying for this new publication that will be distributed to faculty within the Lincoln Public Schools at no cost, as well as to other Lincoln-based schools and local organizations. The Lincoln Cultural Council and Lincoln School Foundation are also helping to fund this project.
Several additional projects of interest are being vetted by the board of trustees that will impact on the organization's immediate conservation, stewardship and educational goals.
"We are humbled by the breadth and depth of support demonstrated by Bob and Eileen," said Meghan Lytton, chair of the board of trustees. "It was a very special moment for all of us at the LLCT to experience the overwhelming support we received from the Lincoln community at the benefit concert. And the success of the matching campaign is an extraordinary endorsement by our membership — the very roots of our organization. As we celebrate this awesome philanthropic success, we remain ever grateful to our many supporters, and grounded in our responsibilities to acquire and protect land of conservation value in Lincoln and to cultivate a conservation ethic among all."
About the Lincoln Land Conservation Trust (LLCT)
The mission of the LLCT is to protect the rural character of Lincoln, Massachusetts by holding conservation land in trust for the benefit of the residents of Lincoln and the general public, and to encourage preservation, enjoyment, education, and scientific study of Lincoln's natural areas.
The LLCT owns and stewards more than 75 parcels on 500-plus acres. LLCT monitors conservation restrictions (CRs) on more than 120 parcels on 560-plus acres. LLCT helps maintain more than 80 miles of public trails, mainly through trail easements, in cooperation with Lincoln's Conservation Commission and with permission from landowners. Annually LLCT attracts more than 300 members and engages more than 500 participants in educational programming and events.
The LLCT seeks to connect the community to the land through membership, volunteer opportunities, and events. The organization's activities are funded primarily from membership and private donations.
Further information can be found at lincolnconservation.org.
###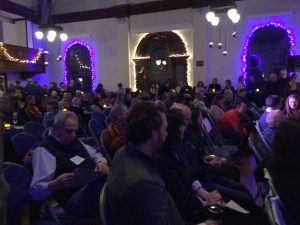 More photos can be viewed on the LLCT Facebook page in the LLCT Benefit Concert Album.