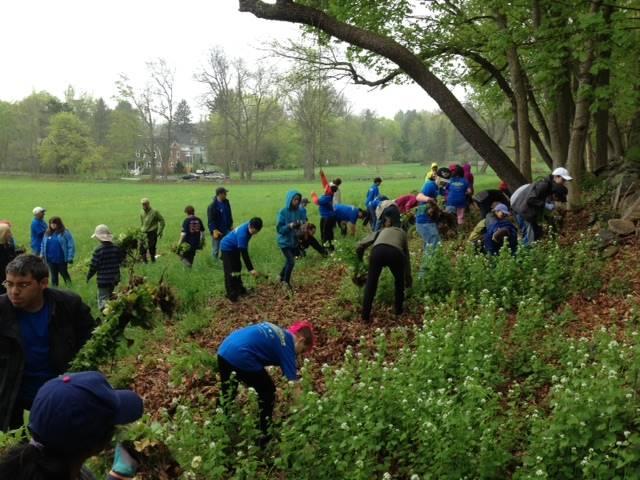 Many hands make for light, efficient, and effective invasive plant control! Drop by to help at several locations throughout Lincoln the week of April 30 through May 5. Stay as long as you can and help out with as much work as you are able to do. Conservation staff will be on hand to help get you started. Read on for complete details about where to go, what to bring, and what to expect.
Location and Parking Details
Monday, April 30 from 8:15 AM* until about Noontime at Codman South and along Codman Road. Park in the small dirt lot at the Codman Estates, 34 Codman Road, Lincoln.
Tuesday, May 1 from 8:15 AM* until about Noontime at Codman East, Farm Meadow and Bergen-Culver (near MacKintosh Lane). Park in the back of the Donelan's parking lot (not the commuter lot in the far back) at 145 Lincoln Road, Lincoln.
Friday, May 4 from 8:15 AM* until about Noontime at Upper and Lower Browning Fields, and from 1:ooPM until about 4:00 PM at Pierce Hill. Park at the riding ring off of Weston Road for work at Browning Fields. Park along Tower Road for Pierce Hill work and enter the trail head closest to Pierce Hill Road.
Saturday, May 5 from 9:00 AM** until Noontime at Flint Fields. Park along Old Lexington Road along the roadside opposite of the field.
*Stacy Carter, Land Steward for the Town of Lincoln, will be picking garlic mustard in these areas each day and all are welcome to join her, or are encouraged  to walk these areas and pick garlic mustard yourselves. There is no formal meet up or gathering, simply look for Stacy and volunteers out on the land or trails and join in. Stacy can help get you started as needed.  
**Buzz Constable, Trustee at the Lincoln Land Conservation Trust, will be leading this effort. Grace Chapel volunteers will be assisting beginning from 9 AM. If you arrive after we begin, look for Buzz or Jane Gruba-Chevalier of the LLCT for help getting started.
Who should come?
No experience is required to participate—beginners and experienced trail volunteers are welcome. Work days are suitable for individuals, small groups, and families with children 12 years and older. Children must be supervised by a parent or a responsible adult.
What will you be doing?
We will be pulling garlic mustard, an invasive plant species. Learn to identify the plant, how to pull it, and then how to properly dispose of it. We will continue to build on the progress that has been made in previous years to control and eradicate the plant. Land management and trail work is a great full body workout, better than a trip to the gym!
What should you wear and bring?
As much as possible, wear rugged/sturdy clothes that can get dirty.
Sturdy shoes, boots, or hiking shoes for work (close-toed)
Long pants (no matter how hot it is!)
Long-sleeves are recommended (t-shirt is okay, though note you may be exposed to poison ivy)
Wear layers appropriate for weather conditions
Work gloves that fit well are recommended
Bring a weed wrench, if you have one (watch the LLCT garlic mustard video)
Other suggested items:
Water bottle and snack (carry in/carry out)
Sunscreen and a hat
Insect repellent specifically used for ticks. Always follow product instructions.
For further questions, contact the LLCT staff.