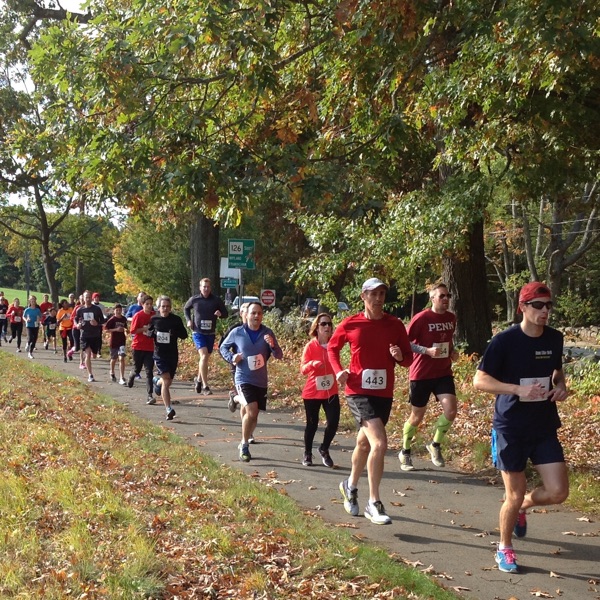 Join LLCT for our 7th Annual Scarecrow Classic 5K!
This year's race is on Sunday October 20th at the Mall at Lincoln Station. Registration and more information are online at ScarecrowClassic5K.com.
More than 550 participants are expected to join LLCT for this beautiful race on Lincoln's scenic roads, fields, and trails. Proceeds support LLCT's land conservation mission. LLCT helps manage more than 2,000 acres of land in Lincoln, and offers free educational programming and events to the community throughout the year.
Day-of registration begins at 8:00 A.M. on the 20th, and the race starts at 9:30 A.M. Along the race route, participants are guided by colorful scarecrows. After the race there is a raffle drawing with great prizes, live music, cider donuts, and prizes for the top three runners in each age category. Raffle tickets can be purchased in advance at the LLCT offices or from LLCT Trustees, or on race day by the registration table.
The LLCT continues to make the race as "green" as possible. This will be LLCT's third year of zero single-use plastic water bottles at the race. Racers are asked to bring a reusable (filled) water bottle to the race. Racers can place their water bottle at the finish line ahead of time, and it will be waiting for them post-face. LLCT provides labelling supplies, and will have a hydration station and limited water supplies for those without a water bottle.
LLCT will also be reducing waste this year by composting all food waste and compostable cups and utensils. Last year LLCT began composting at the race, and we are excited to take advantage of Lincoln's new composting service at the transfer station this year!
Lastly, LLCT is excited to announce that this year's race shirt will be made from a cotton/poly blend, using responsibly sourced cotton and recycled poly fibers. The dyeing process also uses less water and fewer chemicals. Register by October 6th to guarantee that your shirt will be waiting for you on race day!
Thank you to all our wonderful registrants and sponsors. Your contributions make this wonderful community event possible and directly support conservation efforts in Lincoln.