Scientifically Researched Sites by Dr. Robert Gegear
In the fall of 2019, fourteen sites across Lincoln were assessed for habitat quality. Three Case Study (scientifically researched) sites were selected to be developed as functionally diverse habitat representing an array of ecological habitats, land use conditions, and aesthetics. Properties owned by the Lincoln Land Conservation Trust (LLCT) have been prioritized for the first phase of the project. Birches School in Lincoln will also be planting a functionally diverse, native pollinator garden that will serve as a demonstration site for the project. Privately-owned properties, while not being formally studied, are also a priority to maximize connectivity to create a pollinator corridor.
In the first year at the three Case Study sites, Dr. Gegear, professor of biology at UMASS Dartmouth, will conduct landscape-scale surveys of species-level interactions between animals and flowers, with a particular focus on native bumblebees*. Data will also be collected on other native bees and butterflies. These surveys will be compared to historical records of native pollinator species in the area, in order to prioritize the conservation of species that are currently extirpated, threatened, or endangered in the region, but have historic presence in the area, or are presently found in neighboring regions. This information will drive the development of plant lists and planting palettes, influenced by each site's land use, ecological conditions, context, as well as aesthetics, which will be turned into replicable Native Plant and Pollinator Toolkits. Priority will be given to plants that support the pollen, nectar, and nesting needs of threatened bee, butterfly and moth species, and especially to plants that support the widest possible range of such species per plant.
Surveys of pollinator activity on these designed plant communities will be conducted over a two year period by Dr. Gegear and his research team. They will test for increases in rare or threatened species presence (functional diversity). The results will be shared and published widely, to demonstrate how conservation properties can be used to promote and increase biodiversity.
A summary report from Dr. Gegear, based on three-year monitoring of the sites for pollinator species presence and change, will be published on our website in December, 2022.
*As a model system, [the Gegear Lab] primarily use bumblebees (Bombus spp.) because they have evolved the cognitive capacity to flexibly track food resources (nectar and pollen) in complex multi-sensory floral environments; they have rich co-evolutionary relationships with many native flowering plant species; they are highly amenable to experimental study of behavior under laboratory and field conditions; they play a critical role in maintaining ecosystem health and biodiversity; and they are easily identified to the species level under natural conditions by citizen scientists. (Taken from https://gegearlab.weebly.com/)
The Three Case Study Sites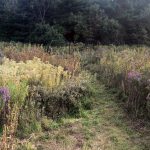 Information on the selected sites will be available soon. Each site represents a different landscape typology, including: 1) upland meadow, 2) wet meadow, and 3) hayfield/pasture land. The established People for Pollinators meadow will serve as one of the Case Study sites.
Additional Sites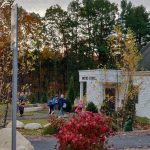 As part of the initial Pollinator Action Plan, Birches School, a nature-based, independent, co-educational, K-8 institution located at 100 Bedford Road in Lincoln, planted a functionally diverse, native pollinator garden on their school grounds designed by Evan Abramson of Landscape Interactions and informed by Dr. Gegear's research. The planting design is included in the Pollinator Action Plan as one of the Toolkits. Birches faculty participated in a native bee identification training with LLCT and Dr. Gegear, and the school actively participates in The Beecology Project. When visiting the garden, please be considerate of the students who may be learning outside and aim to visit on weekends or after school hours.
Additional sites throughout Lincoln have been planted between 2020-2022. These include the Lincoln Station Garden, the Codman Rd/Rte 126 Island, and the Harrington/Twin Pond Parking Area. All these sites are easily visible from the road and open to the public.  Click here for a list of sites, directions, and information.
Additional conservation properties will serve as control sites for the study. The presence of intact, native plant communities at a few sites in Lincoln make them useful for comparison. Still, conceptual designs that include plant lists to increase functional diversity at the control sites may be developed, and information about management and maintenance strategies to increase biodiversity may inform future planning.