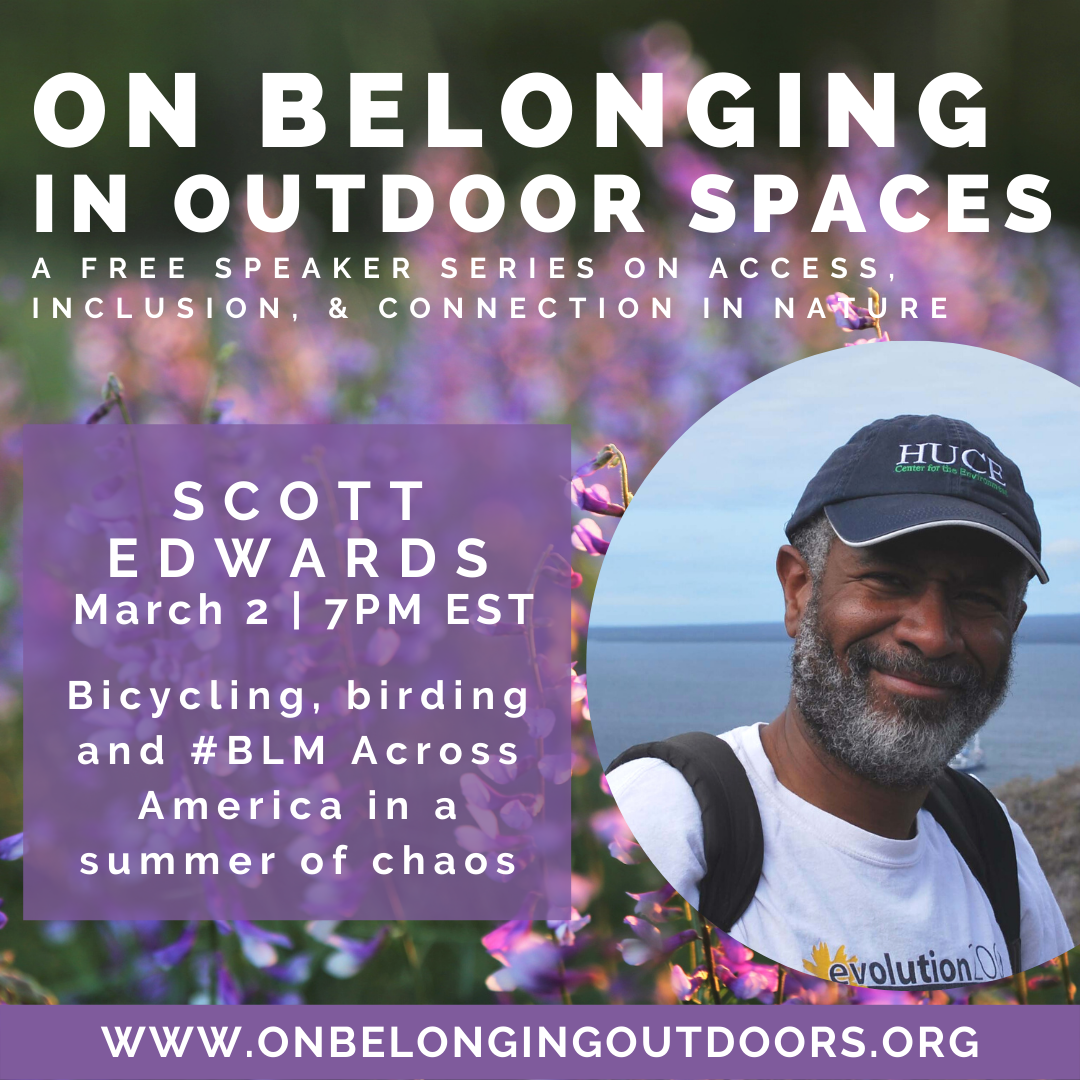 Bicycling, birding and #BLM Across America in a summer of chaos

Scott Edwards
Through vivid photographs and videos, Scott will bring you along on his 76-day, 3800-mile bicycle trek across the United States in the summer of 2020, when the world was leveled by a pandemic and outraged by the murders of George Floyd and others. As he rides through varied landscapes and communities, with "Black Lives Matter" signs affixed to his bicycle, Scott will reflect upon the people, landscapes and birds that he encountered, and convey the challenges, generosity and hope that inspired and surprised him throughout his journey. His two-wheeled story is a clarion call to people of all stripes to enjoy the open road, make connections across divides, and help break down stereotypes often attached to people of color in the United States.
Scott's interest in ornithology and natural history began as a child growing up in Riverdale, Bronx, NYC. As an undergraduate, Scott took a gap year to work at the Smithsonian's National Museum of Natural History in Washington, DC, and assist with fieldwork in his native Hawaii and in northern California. After 9 years teaching at the University of Washington, he returned to Harvard as a professor in 2003. Scott spent two years of national service at the National Science Foundation in Washington DC and has served on the advisory boards of the Cornell Lab of Ornithology, the Massachusetts Audubon Society and the National Museum of Natural History. He has devoted his career to increasing the number of BIPOC in the environmental sciences and in 2020 was awarded the inaugural Inclusiveness, Diversity and Equity and Access (IDEA) award from the Society for the Study of Evolution.
This is a free, virtual program. All are welcome. Please register to receive the meeting link.
The On Belonging Speaker Series is a collaboration of six host organizations, Farrington Nature Linc, DeCordova Sculpture Park and Museum, Mass Audubon, Lincoln Land Conservation Trust, The Food Project, and Walden Woods Project. Spring 2022 Funding is provided by The Ogden Codman Trust. Past sponsors include The Sudbury Foundation, The Lincoln Garden Club, and The Bemis Free Lecture Series.