Information via Lincoln's Town Conservation Department:
Garlic Mustard is up early due to this year's mild winter. We encourage you to pull any garlic mustard you see in your own yards and on nearby trails (if it is safe for you to do so).
Neighborhood Pull Season – April 13 through May 31. Venture out into your yard and pull Garlic Mustard! 
Changes this season
Paper leaf bags will NOT be distributed to residents at the transfer station or at the Town Conservation Office and Land Trust Office due to concerns regarding COVID-19
Pick Up – The Conservation Dept. will NOT be able to handle any pick-ups or drop-offs of full Garlic Mustard bags this season
At-home Disposal Options* – since the Dept. will not be able to assist here are some things you can do on your own: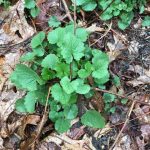 Create a "tarp sandwich" – identify an area in your driveway or on your lawn to lay down a piece of tarp or any plastic sheet. Then, spread your garlic mustard across the tarp/plastic and cover with your second piece (you can use rocks or any sort of weight around the edges to hold your pieces together). This will allow your garlic mustard to "cook" in the sun for the season.  Finally, let your decomposed garlic mustard dry out a bit and move it to an inconspicuous place or burn it, if possible (don't forget to apply for a burn permit!).
Leave it to dry on pavement – If you are looking for a less involved option, our second recommendation is to spread piles out over pavement until the plants dry out or to have a designated "invasive plant only" pile (with garlic mustard or otherwise) where you can dispose of all invasives. While the first option is the best recommendation,  the overall goal is to ensure the plant does not go to seed and continue to spread after it has been pulled, anything you can do will be a huge help!
As much as we would love to have our regular pull season activities, we appreciate your understanding during these times. We do hope to see you all out there (from a safe distance) to help keep Lincoln clear of invasives! Have questions? Contact  Emma Coates at coatese@lincolntown.org or call 781-259-2612
Garlic Mustard Info Sheet (PDF)
LLCT's video on pulling garlic mustard before the flowers develop: